This colt is by Tavistock is out of Alluring Belle, a daughter of Australia's best broodmare sire Encosta de Lago. Alluring Belle was a winner over 1150m and is a sister to Group 1 winner Mission Critical and Group 2 winner Brilliant Light. This is the family of European Group 1 winner Nedawi plus Group 2 winners Wajd and Nocturnal Fox as well as Group 3 winners Fitful Skies and Wall Street.
Tavistock needs no introduction, our stable has had great success with Tavistock progeny including Tarzino, Tavisan, Tavistock Dancer and most recently Yulong Tavion. Tavistock is also the sire of Group 1 winners Werther, Tavago and Volkstock'n'barrel plus Group winners Hasselhoof, Tavidream and Gobstopper amongst his 17 individual stakes winners to date.
"The colt has a mixture of 1400m, a mile and staying in the pedigree. He's not a big rangy staying horse, but a high energy, good boned, great walker, and a bold sort of Tavistock… He is well put together physically, sold late in the sale, we were thrilled to purchase him at $150k. He is a really nice buy."…. Mick Price.
This colt was purchased at the 2019 Karaka Yearling sales for NZ$150,000. He has been broken in, spelled and is currently in pre training under the care of John Ledger at Wangaratta.
He will be raced in partnership with Duncan Ramage Racing.
Ownership opportunities include purchase price, breaking in expenses, airfreight, transport from the airport, vet and x ray inspections, 12 month mortality insurance including $10,000 with emergency surgery cover.
To view the pedigree click here
For further information feel free to call Shona Drechsler on 0408 427 414 or Mick Price on 03 9572 0333.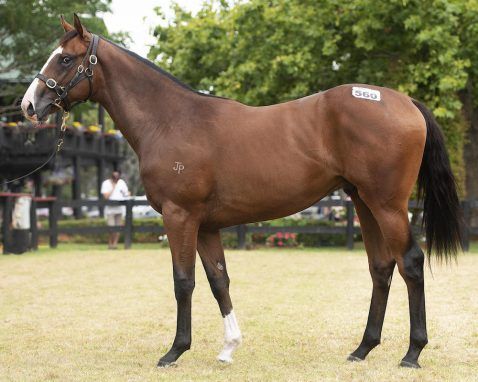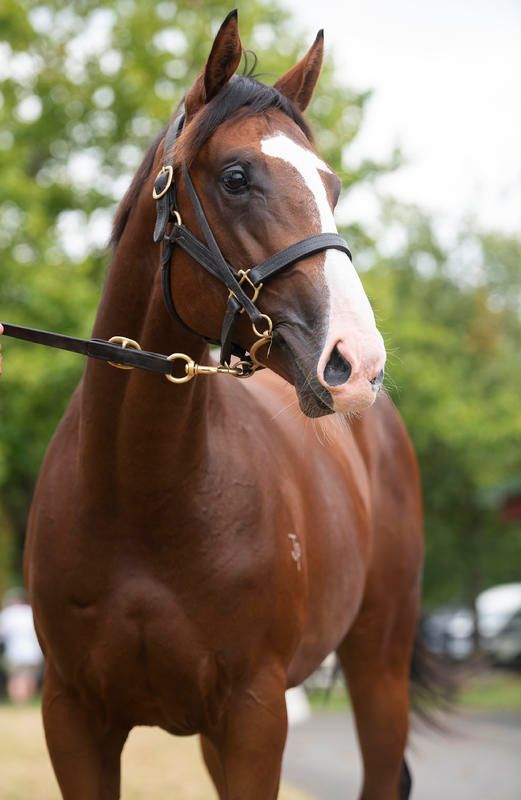 BAY COLT (NZ)

Foaled 3rd September 2017

---

| | | | |
| --- | --- | --- | --- |
| Sire | Montjeu | Sadler's Wells | Northern Dancer |
| TAVISTOCK (NZ) | | Floripedes | Top Ville |
| 2005 | Upstage | Quest for Fame | Rainbow Quest |
| | | Pedestal | High Line |
| Dam | Encosta de Lago | Fairy King | Northern Dancer |
| ALLURING BELLE (AUS) | | Shoal Creek | Star Way |
| 2009 | Trick Taker | Capote | Seattle Slew |
| | | Whist | Mr. Prospector |

---

TAVISTOCK (NZ) (Bay 2005-Stud 2010). 6 wins-1 at 2, Waikato Draught Sprint, Gr.1. Champion Sire in Hong Kong in 2015-16. Sire of 300 rnrs, 189 wnrs, 17 SW, inc. Werther (HKJC Audemars Piguet Queen Elizabeth II Cup, Gr.1), Tarzino, Tavago, Volkstok'n'barrell, Tavidream - Circuit Glory (H.K.), Hasselhoof, Tomelilla, Hiflyer, Gobstopper, Pacorus, Infantry, Avisto, Longchamp, Nymph Monte, Won Won Too, Tavy, Titanium, SP Spring Delight, Tavisan, etc.

1st dam

ALLURING BELLE, by Encosta de Lago. Winner at 1150m in Aust. Half-sister to MISSION CRITICAL, BRILLIANT LIGHT, All Cerise. This is her third foal. Her second foal is a 2YO. Dam of one foal to race.

2nd dam

TRICK TAKER, by Capote. Winner at 6f in U.S.A. Dam of 6 foals, all winners-

MISSION CRITICAL (Fantastic Light). 4 wins from 1400m to 2000m, NZ$179,925, A$132,575, Waikato RC International S., Gr.1, BTC Rough Habit P., Gr.3, Waikato RC Super Liquor 3YO S., 2d WRC Wellington S., Gr.3, 3d VRC Emirates Airline P., L, 4th ARC Great Northern Guineas, Gr.2, WATC CB Cox S., Gr.2, AJC Frank Packer P., Gr.3.

BRILLIANT LIGHT (Fantastic Light). 7 wins from 1000m to 1600m, A$489,770, STC Ajax S., Gr.2, AJC Doncaster Mile Prelude, L, STC Parramatta Leagues Club H., Milton Meats H., 2d Newcastle JC Newmarket H., Gr.3, 3d AJC Doncaster H., Gr.1, 4th ATC Ajax S., Gr.2.

All Cerise (Redoute's Choice). 6 wins from 1250m to 1600m, A$357,940, ATC TAB Rewards H., McGrath Estate Agents H., TAB Ipad App H., Cellarbrations H., VRC Barrie Kerr H., Curragh Racecourse H., 2d ATC Aspiration H., Gr.3, City Tattersalls Club H., Australian Turf Club H., 3d ATC Blacktown Workers Club H., Become an ATC Sponsor H., Myboycharlie at Vinery P., 4th ATC Phar Lap S., Gr.2.

Manor House. 3 wins-1 at 2-at 1200m, 1400m, ATC Carramar 2YO P., 2d ATC Ibis Milano Lunch Special H.

Alluring Belle. Winner. See above.

Christmas. Winner at 1400m in Aust. Producer.

3rd dam

WHIST, by Mr. Prospector. Winner at 2300m in France. Sister to WALL STREET, half-sister to NEDAWI, FITFUL SKIES, Wajina, Karatoya, Nabati (dam of NOCTURNAL FOX, BEST OF TIMES). Dam of 8 named foals, all raced, 7 winners, inc:-

Billy. 4 wins at 1m, 8½f in U.S.A.

Brinkmanship. 4 wins from 19½f to 24½f in GB.

Wake. 3 wins at 1m in U.S.A.

Win the Future. 2 wins at 7f, 8½f in U.S.A.

Whiffle. Winner at 2 in GB. Dam of-

Bocce (Foxwedge). Winner at 2, NZ$99,835, in 2017-18, Levin RC Fasttrack Insurance 2YO H., 2d Rotorua RC Faulkner Drainage H., 3d ARC Karaka 2YO Million, RL, BOP RC Mills Reef Winery H., 4th ARC Diamond S., Gr.1.

Kona Breeze (Sebring). Winner at 1300m, 2d MRC Chairman's S., L, VRC Nursery P., 3d MRC TMB Printing H.

4th dam

WAJD, by Northern Dancer. 4 wins at 2100m, 2400m, Grand Prix d'Evry, Gr.2, Evry Prix Minerve, Gr.3, Longchamp Prix des Tuileries, L, 3d Longchamp Prix Royal Oak, Gr.1, Yorkshire Oaks, Gr.1, Grosser Preis von Baden, Gr.1, Longchamp Prix de Royallieu, Gr.2. Three-quarter-sister to DAHAR, LLANDAFF, Dahlia's Image, half-sister to DAHLIA'S DREAMER, DELEGANT, RIVLIA, Decadrachm, Miss Dahlia (dam of CAPITAL PLAN), Tani (dam of SKY EMBASSY). Dam of 12 foals, all raced, 10 winners, inc:-

NEDAWI (Rainbow Quest). Top of The 1998 International 3YO Classification (Ext.). Champion 3YO Stayer in GB in 1998. 3 wins at 1½m, 14½f, £353,355, 460,000Dhs, The St Leger, Gr.1, Goodwood Gordon S., Gr.3, 2d Ascot King George VI & Queen Elizabeth Diamond S., Gr.1, Nad al Sheba Dubai Turf Classic S., L, 3d Haydock July Trophy, L. Sire.

FITFUL SKIES (Dubawi). Champion Older Female in Germany in 2013 (Int.). 4 wins from 2100m to 2350m, €89,600, US$107,166 in France and Germany, Hannover Grosser Preis von German Tote, Gr.3, 2d Woodbine EP Taylor S., Gr.1, Baden-Baden T von Zastrow Stutenpreis, Gr.3, Chantilly Prix La Moskowa, L, Le Lion-d'Angers Prix Urban Sea, L, 4th Belmont Sheepshead Bay S., Gr.2.

WALL STREET (Mr. Prospector). 3 wins from 1m to 1½m, Ascot Cumberland Lodge S., Gr.3, Newbury Steventon S., L, 2d Goodwood Select S., Gr.3, 4th Deauville Prix Guillaume d'Ornano, Gr.2.

Wajina (Rainbow Quest). Winner at 2100m, Saint-Cloud Prix Duschka, 2d Deauville Prix Kergorlay, Gr.2, Longchamp Prix Gladiateur, Gr.3. Producer.

Karatoya (Tiger Hill). 3 wins from 2600m to 2900m, 3d Longchamp Prix Lord Seymour, L.

Nabati. 3 wins from 2000m to 2400m in France. Dam of-

NOCTURNAL FOX (Farhh). 2 wins at 2100m, 2400m, €89,050, in 2018, Chantilly Prix Hocquart, Gr.2, Maisons-Laffitte Prix Empery.

BEST OF TIMES (Dubawi). 3 wins-2 at 2-from 7f to 1¼m, Newmarket S., L, 2d Goodwood Cocked Hat S., L.