Incentives:
WANT A HORSE RACING IN THE NEAR FUTURE?? HERE IS ONE!!
Please find below the photos of the Deep Field x Shadows colt that was purchased at the 2018 Magic Millions yearling sale.
This now gelding, is by first season sire Deep Field, who was an undefeated metropolitan winning 3yo who trained on to win the Group 2 VRC Tab.com.au Stakes as a 4yo. Deep Field is off to a flying start with his first crop of yearlings now 2 year-olds. Many leading stables have purchased his progeny and they realised up to $675,000 at the recent Magic Millions yearling auction. His first season crop have now just ticked over with 18 winners, the most recent a horse called Three Beans scored an impressive debut victory at Ballarat on May 28. Deep Field also has two very handy horses in Cosmic Force (prize money over $228k) winner of the Gr3 Pago Pago and Hawker Hurricane (prize money $130k) winner of the 2YO Magic Millions Classic at Ballarat. We think we have found a handy one too, Scorpius had his first start on June 3 on a Heavy 10 and won impressively. Deep Field is by quality sire Northern Meteor and is a half-brother to Group 1 Caulfield Guineas winner Shooting To Win.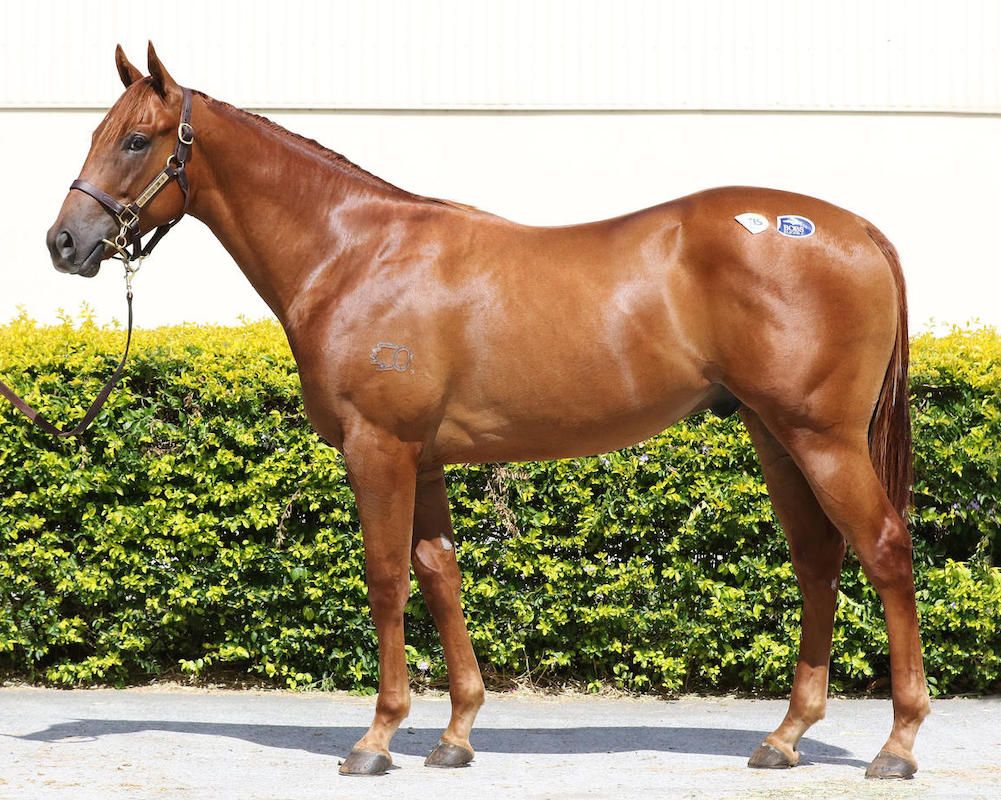 This gelding is the first foal of the Dane Shadow mare Shadows. Shadows was a winner at 1200m and is a half-sister to Group 2 winner Danabaa ($280K in prize money). This is the family of Group 1 winner Ball Park, Group 3 winners Deposition ($621K) and Ventura as well as Listed winners Slater and Accuse.
The Deep Field x Shadows gelding was purchased for $160,000 at the 2018 Magic Millions yearling sale. Now a 2YO, the colt has been broken in, has completed mini training preparations, been into Caulfield and is now currently spelling with a view to racing him in his upcoming preparation. He is due to come back into work mid June.
Ownership opportunities include purchase price and GST, all vet checks, transport from the auction to Ledger Racing, breaking in expenses at Ledger Racing, training, spelling, gelding and photos and video of the colt.
For further information feel free to call Shona Drechsler on 0408 427 414 or Mick Price on 03 9572 0333.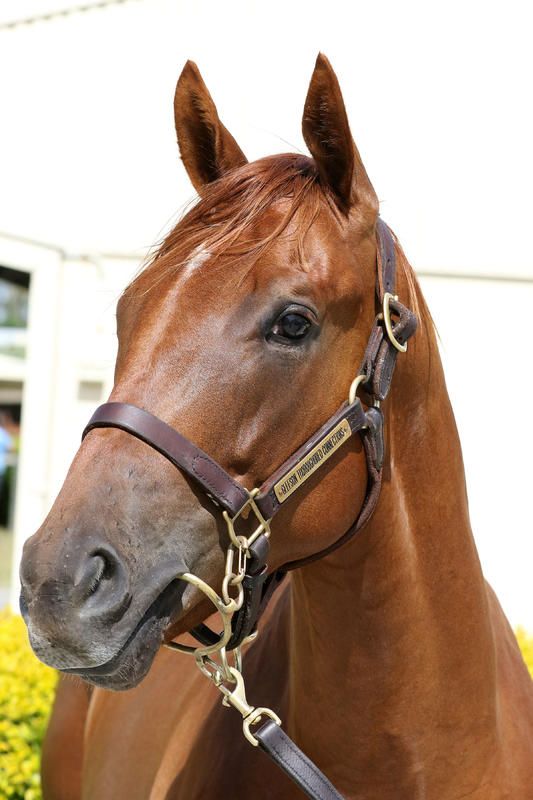 CHESTNUT COLT (AUS)

Foaled 26th August 2016

---

| | | | |
| --- | --- | --- | --- |
| Sire | Northern Meteor | Encosta de Lago | Fairy King |
| DEEP FIELD (AUS) | | Explosive | Fappiano |
| 2010 | Listen Here | Elusive Quality | Gone West |
| | | Announce | Military Plume |
| Dam | Dane Shadow | Danehill | Danzig |
| SHADOWS (AUS) | | Slight Chance | Centaine |
| 2008 | Tears for Tristram | Sir Tristram | Sir Ivor |
| | | Tears for Fears | Biscay |

---

DEEP FIELD (AUS) (Bay 2010-Stud 2015). 5 wins to 1200m, A$390,300, VRC Tab.com.au S., Gr.2, ATC Lightning H., L, TAB Quaddie H., Hyland Race Colours H., 2d ATC Maurice McCarten S., Gr.3, 3d VRC Lightning S., Gr.1. Brother to SW Shooting to Win (MRC Caulfield Guineas, Gr.1). Out of SW Listen Here (SAJC Pewsey Vale S., L), a half-sister to SP Spectro Power. Related to SW Emerald Dream, etc. His oldest progeny are yearlings.

1st dam

SHADOWS, by Dane Shadow. Winner at 1200m in Aust. Half-sister to DANABAA. This is her first foal.

2nd dam

TEARS FOR TRISTRAM, by Sir Tristram. 2 wins at 1000m, 1200m in Aust. Half-sister to BALL PARK. Dam of 10 foals, 9 to race, all winners, inc:-

DANABAA (Anabaa). 4 wins to 1200m, A$280,580, SAJC Yallambee Classic, Gr.2, VRC Red Roses S., L, SAJC Morphettville Junction H., Christmas Twilight P., 2d SAJC Walter Brooke 3YO Sprint H., 3d SAJC Goodwood H., Gr.1.

Words are Weapons. 3 wins at 1000m, 1100m, ATC Ibis Milano Lunch Special H., SAJC Hamilton Holden H., 3d ATC Buy Your Next Racehorse at Inglis H.

Klatch. 2 wins at 1250m, STC National MEA Banqueting & Catering Award Winners H., 3d STC Freeway Hotel Artarmon H. Dam of-

Unscopeable. Winner at 1100m in 2017-18, SAJC Ubet P., 2d SAJC Quayclean 2YO H., 3d SAJC Adelaide Galvanising 2YO H., SA Derby Raceday 2YO H., Ubet H.

Telecom Boom. 6 wins from 1400m to 2250m in Aust. and Macau, 3d MRC Desert Breeze 2YO H.

Tears of an Eagle. 4 wins at 1000m, 1100m in Aust. Producer.

Shadows. Winner. See above.

Captain Ted. Winner at 1600m in Aust.

The Marquetear. Winner at 1600m in Aust.

Tristram Star. Winner at 1500m in Aust. Dam of-

Our Brightest Star. 4 wins to 1400m, A$81,455, 2d ATC TAB Rewards H., 4th Canberra Guineas, L.

3rd dam

Tears for Fears, by Biscay. Winner at 2, SAJC Make Mine Roses H., 2d SAJC Morphettville P.H., L, Attard & Co H., 3d SAJC Oaklands P., L, Salamander H. Half-sister to STATER (dam of DEPOSITION, ACCUSE). Dam of 7 named foals, all raced, 5 winners, inc:-

BALL PARK (Ahonoora). 8 wins from 1200m to 2200m, NZ$260,675, A$34,500, Avondale Cup, Gr.1, ARC Easter H., Gr.1, WRC Anniversary H., L, ARC Forbes Printing & Packaging H., Air New Zealand National H., Avondale JC Furniture Placements H., BATC Winter Racing Carnival H., 2d Auckland Classic, Gr.1, WRC Captain Cook S., Gr.1, VATC Coongy H., Gr.3, ARC King's P., L, Avondale JC Frank Sing Metric Mile H., 3d ARC Bluebird Foods Trophy, Gr.2, Clifford P., Gr.3, Scott Masterprint H., 4th Waikato RC International S., Gr.1. Sire.

No More Fear. 6 wins to 1500m in Macau, Macau Dante H., El Gran Senor H., 2d Macau Baguette H.

Sea Song. Placed at 3 in Aust. Dam of-

Anabaa's Legacy (Anabaa). 3 wins to 1200m, A$142,060, MVRC Mvrc.net.wu H., 2d Cranbourne TC Apache Cat Classic, VRC Isca H., 3d MRC WW Cockram S., Gr.3, Cranbourne TC Procon Developments H., MRC Ascend Sales & Sponsorship Consultancy H., 4th MRC How Now S., Gr.3.

4th dam

SEGAL, by Northfields. Unplaced. Half-sister to FOUNT OF YOUTH, Silent Spring, Terre Promise (dam of FAITES VITE). Dam of 7 foals, all raced, 6 winners, inc:-

STATER (Kaoru Star). 2 wins at 2, AJC Keith Mackay H., L, Gainsborough H., 3d City Tatt's RC George Buxton H., 4th AJC Flight S., Gr.2, Reginald Allen H., L. Dam of-

DEPOSITION (Tolomeo). 15 wins from 1100m to 1600m, A$621,980, Newcastle JC Newmarket H., Gr.3, STC Frederick Clissold H., Gr.3, Shannon H., Gr.3, 2d AJC George Main S., Gr.1, VATC Futurity S., Gr.1, STC Theo Marks H., Gr.2, 3d QTC Qantas Cup, Gr.2, AJC Craven P., Gr.3.

ACCUSE (Bellotto). 11 wins-1 at 2-to 1400m, A$326,636, VRC Scalzo Food Industries S., L, STC Bern Maid 2YO H., VATC Robert Taranto Welter H., 2d VRC Totally Wild S., L, 3d VRC Chivas Regal S., Gr.3, MRC Barton S., L.

Ranch Lady. 2 wins at 1200m, 1300m in Aust. Dam of-

VENTURA (Flotilla). 4 wins from 1200m to 2400m, A$101,275, Tasmanian Derby, Gr.3, TRC Carlton & United H., TTC Launceston Cup Ball H., 2d TTC Larter's Cellar H., McKillop Insurance H., 3d TRC Sir Tristram Trophy S., 4th Tasmanian Guineas, L.

Tears for Fears (Biscay). Winner. See above.