Incentives:
This colt is by Star Witness, who's progeny continue to succeed on the race track. Of his 449 runners, he's had over 287 individual winners, that is some strike rate! Stakes winners include dual Group One winner Global Glamour, multiple Group One winner ans now first season sire Star Turn, Graff and Fuhryk to name a few. Star Witness is incredibly versatile getting 2YO's, 3YO's and older horses with Stakes winners from 1100m to 2400m
On the race track Star Witness was a winner of the Group One Blue Diamond as a 2YO and the Group One Coolmore Stud Stakes as a 3YO. He amassed over $1.3m in prize money and was crowned Champion 3YO Colt in Australia in 2010-11.
This colt finished his breaking in process under the care of John Ledger at Wangaratta on April 3. As you can see he handled the process well. He has spelled for eight weeks and on May 18 he commenced pre training.
Out of the mare Barangaroo, she is well bred being a daughter of Fastnet Rock. The dam of Barangaroo, Bennelong Belle, was sired by Marscay so there is some very blueblood in this colt, On the track Baranagroo was a winner over 1100m to 1200m, she also placed 4th in the Listed Typhoon Tracey takes, being beaten by Miss Gai Flyer. In the breeding barn Baragaroo has been very successful having three foals to race and all have been winners, including Black Type performer Our Crown Mistress and a winner of over $291,000. We also have a little bit of inside info on another now 2YO filly we have in the stable. Her name is Barangaready, she's had one start and was immature and copped a few bumps in running so we have put a line through that start. But we like what we see in her and we think with Star Witness as a sire we can hope to see a speedy horse in this colt.
The colt was purchased for $80,000. Ownership opportunities in the colt includes purchase price, breaking in expenses, transport from the sales, vetting (including scope, x-ray inspections and clinical exam), twelve month mortality insurance, emergency surgery cover, agistment, Inglis Race Series, photographs/video of the horse and GST.
For more information please call Shona Drechsler on 0408 427 414 or Mick Price on 0418 179 345.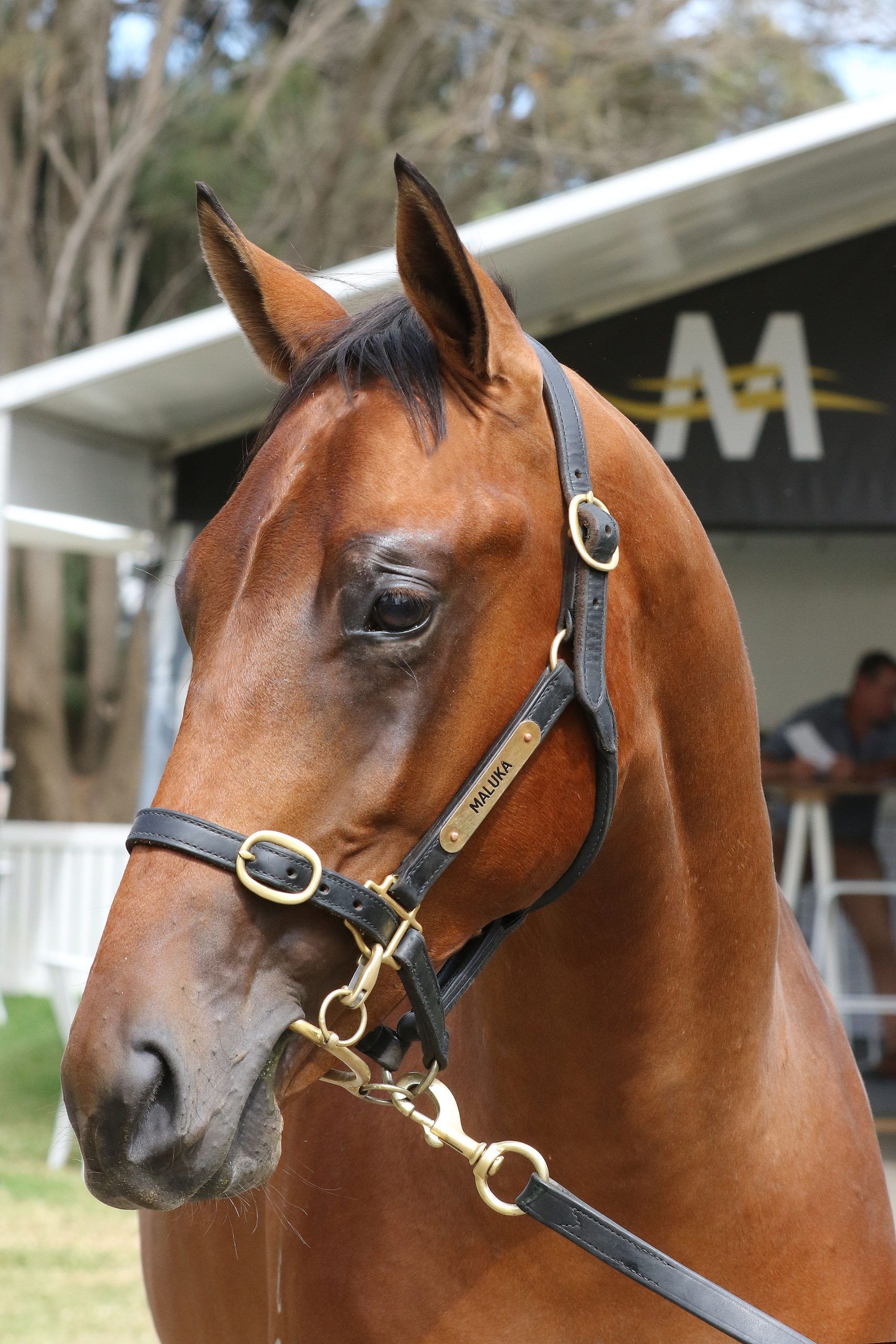 BAY COLT (AUS)

Foaled 13th September 2018

---

| | | | |
| --- | --- | --- | --- |
| Sire | Starcraft | Soviet Star | Nureyev |
| STAR WITNESS (AUS) | | Flying Floozie | Pompeii Court |
| 2007 | Leone Chiara | Lion Hunter | Danehill |
| | | Chiara | Last Tycoon |
| Dam | Fastnet Rock | Danehill | Danzig |
| BARANGAROO (AUS) | | Piccadilly Circus | Royal Academy |
| 2007 | Bennelong Belle | Marscay | Biscay |
| | | Sunset Beach | Kenmare |

---

STAR WITNESS (AUS) (Chestnut 2007-Stud 2011). 4 wins-3 at 2, VRC Coolmore Stud S., Gr.1. Sire of 465 rnrs, 300 wnrs, 15 SW, inc. Global Glamour (ATC Flight S., Gr.1), Star Turn, Mella Maria, Fuhryk, Graff, Crown Witness, Our Crown Mistress, Stellar Collision, Cosmic Alert, Lord Balmoral, Lycurgus, Magic Alibi, Pearl Star, The Barrister - High Volatility (H.K.), Well Sprung, SP Aim, Kimberley Star, Serenade, Rocket Star, Steel Diamond, etc.

1st dam

BARANGAROO, by Fastnet Rock. 2 wins at 1100m, 1200m, A$85,300, MVRC Device Technologies H., 2d MRC Routley's H., 3d MRC Chase Hotel H., MVRC Moonee Valley Saves Water 2YO H., 4th MVRC Typhoon Tracy S., L. This is her fifth foal. Dam of four foals to race, three winners, inc:-

OUR CROWN MISTRESS (f. by Star Witness). 5 wins to 1400m, A$291,000, to 2018-19, VRC Lexus Hybrid P., L, BRC Just Now H., L, MRC Resimax P., 3d MRC Cape Grim Beef Steaks S., Gr.3, 4th VRC Hong Kong Jockey Club S., Gr.3, BRC Nudgee S., L.

Bringaroo - Heracross (Sing.) (g. by Sebring). Winner at 2, 2d SAJC Holdfast Insurance H., 3d MVRC Sweeney Estate Agents H.

Nangami (f. by Zoustar). 2 wins at 1100m in 2018-19 in Aust.

2nd dam

BENNELONG BELLE, by Marscay. Unraced. Half-sister to MARDI'S MAGIC, Surrealist (dam of RACING TO WIN, PURREALIST). Dam of 5 named foals, 4 to race, 2 winners, inc:-

Barangaroo. 2 wins. See above.

Royal Taga. Winner at 900m in Aust.

3rd dam

SUNSET BEACH, by Kenmare. Unraced. Half-sister to SIR MIDAS, Kailey Princess (dam of SLEEPING BEAUTY). Dam of 7 foals, 6 to race, 3 winners, inc:-

MARDI'S MAGIC (Kenny's Best Pal). 4 wins-2 at 2-to 1400m, A$204,385, STC Magic Night S., Gr.2, VATC Swinburne Alumni H., STC Cabramatta Rugby League Club H., 2d STC Topmost Flying Welter H., VATC Geoff Murphy H., 3d BTC Bernborough H., L, AJC Lease Plan Australia Quality H., VRC Beachside H., STC Nescafe H., MVRC Lone Star Steaks H. Producer.

Mukka Damarto. 7 wins-2 at 2-to 1250m, STC Sydney Airport H., 2d AJC Hon James White H., 3d AJC Alan Sindel H., STC Motor Traders Association H., National Seniors H. Producer.

Beach Barbie. Placed at 3 in Aust. Dam of-

Honourable Aussie (Honours List). 11 wins-2 at 2-from 1250m to 2000m, A$342,855, ATC Racingnetwork.com.au H., Onemorenomore at Vinery H., Testa Rossa at Vinery H., Theraces.com.au H., Sharp H., Canterbury BMW All New 3 Series H., Hawkesbury RC Blake's Marine H., 2d Canberra Cup, L, ATC January H., 3d VRC KA Morrison H., ATC Tab.com.au H., McGrath Estate St George H., 4th Albury Gold Cup, L.

Surrealist. Placed at 2 & 3 in Aust. Dam of-

RACING TO WIN (Encosta de Lago). Champion 3YO in Australia in 2006. 13 wins-3 at 2-from 1100m to 1600m, A$3,762,285, AJC Doncaster H., Gr.1, Epsom H., Gr.1, George Main S., Gr.1, All Aged S., Gr.1, STC George Ryder S., Gr.1, AJC Warwick S., Gr.2, STC Apollo S., Gr.2, Theo Marks S., Gr.2-twice, Hobartville S., Gr.2, AJC Emirates Airlines 2YO H., STC PJ Gallagher's Parramatta H., Nivea Visage 2YO H., 2d BTC Doomben Cup, Gr.1, STC George Ryder S., Gr.1, AJC Warwick S., Gr.2, Royal Sovereign S., Gr.2, STC Phar Lap S., Gr.2, Canterbury S., Gr.2, Golden Rose S., L, 4th VRC LKS Mackinnon S., Gr.1, AJC Warwick S., Gr.2.

PURREALIST (Tale of the Cat). 2 wins-1 at 2-at 1200m, 1400m, A$200,650, MRC Caulfield Guineas Prelude, Gr.3, Canonise 2YO H., 2d SAJC Jansz S., Gr.3, MRC Vain S., L, 3d VRC Danehill S., Gr.3. Sire.

Distilled (Masterclass). 3 wins-1 at 2-to 1400m, A$98,975, VRC Collex Onyx H., 2d MRC Sufficient H., 3d SAJC HC Nitschke S., L, VRC Sunny Lane H. Producer.

Pinocchio. Winner at 1200m in Aust. Dam of-

AETHERO (Sebring). 5 wins-3 at 2-at 1000m, 1200m, HK$9,116,600, to 2019-20, HKJC Jockey Club Sprint, Gr.2, Wo Tik H., Riding High Together H., Amber Griffin P., Liberator Griffin P., 3d HKJC Longines Hong Kong Sprint, Gr.1, Beijing H.

CLASSIQUE LEGEND (Not a Single Doubt). 3 wins to 1250m, A$1,427,000, in 2018-19, ATC Arrowfield 3YO Sprint S., Gr.2, Tab.com.au H., TAB Rewards P., 2d ATC Shorts H., Gr.2, 3d ATC Premiere S., Gr.2, Darby Munro S., L.

4th dam

HULA GOLD, by Rheingold. Unraced. Half-sister to HULA CHIEF, HULA DRUM, HAWAIIAN SONG, Hula Dance (dam of LOVE DANCE, MORVEN WARRIOR). Dam of 13 named foals, 12 to race, 6 winners, inc:-

SIR MIDAS (Sir Tristram). 3 wins from 1400m to 2200m, A$276,320, Geelong RC Derby Trial S., L, AJC PH Osborne Welter H., 2d Victoria Derby, Gr.1, 3d VRC Australian Guineas, Gr.1.

Kailey Princess. 3 wins to 1500m, VATC Dorian's Equitime P., 4th SAJC Cinderella S., L. Dam of-

SLEEPING BEAUTY (Rip Van Winkle). 10 wins to 1400m, NZ$240,437, to 2018-19, Rotorua S., Gr.3, BOP RC Tauranga Classic, L, 2d ARC Westbury Classic, Gr.2, 3d Counties RC Auckland Thoroughbred Breeders S., Gr.2.

Sea Island. Winner at 1200m in NZ. Dam of-

HERCULIAN PRINCE (Yamanin Vital). 9 wins from 1400m to 2400m, NZ$44,813, A$567,100, AJC Metropolitan H., Gr.1, STC Kingston Town S., Gr.3, AJC Japan Racing Association P., L, STC Neville Sellwood S., L, AJC Convention Centre H., ARC Giddy Up Cup, STC International Lounge H., Taranaki RC Highview Stud H., 2d ATC Japan Racing Association P., L, Randwick City S., L, 3d NSW Tatt's RC Tramway H., Gr.3, 4th ATC Apollo S., Gr.2.