Incentives:
Owners: S C Khaw, C D Charteris, G L Trainor, Ms K L Yorston, T M Merrett, Mojito Five Syndicate (Mgr: P Malcolm), P A George, T J Hughes & A Sense Of Timing Syndicate (Mgr: C Cullen)
Hinchinbrook 's most recent Gr1 result is that of Spright. Having placed at Group 1 level twice previously, Spright gained a deserved breakthrough win in elite company with a smooth victory in the TAB Classic (registered as Robert Sangster Stakes a Gr 1 over 1200m on handing the late Hinchinbrook (Fastnet Rock) his fourth Group 1 winner. Former Yarraman Park-based stallion Hinchinbrook died in July last year, while Spright joins Press Statement, Beat The Clock and Seabrook as the sire's other Group 1 winners. He is a great sire and his progeny are sought after at sales on both sides of the Tasman and in Hong Kong.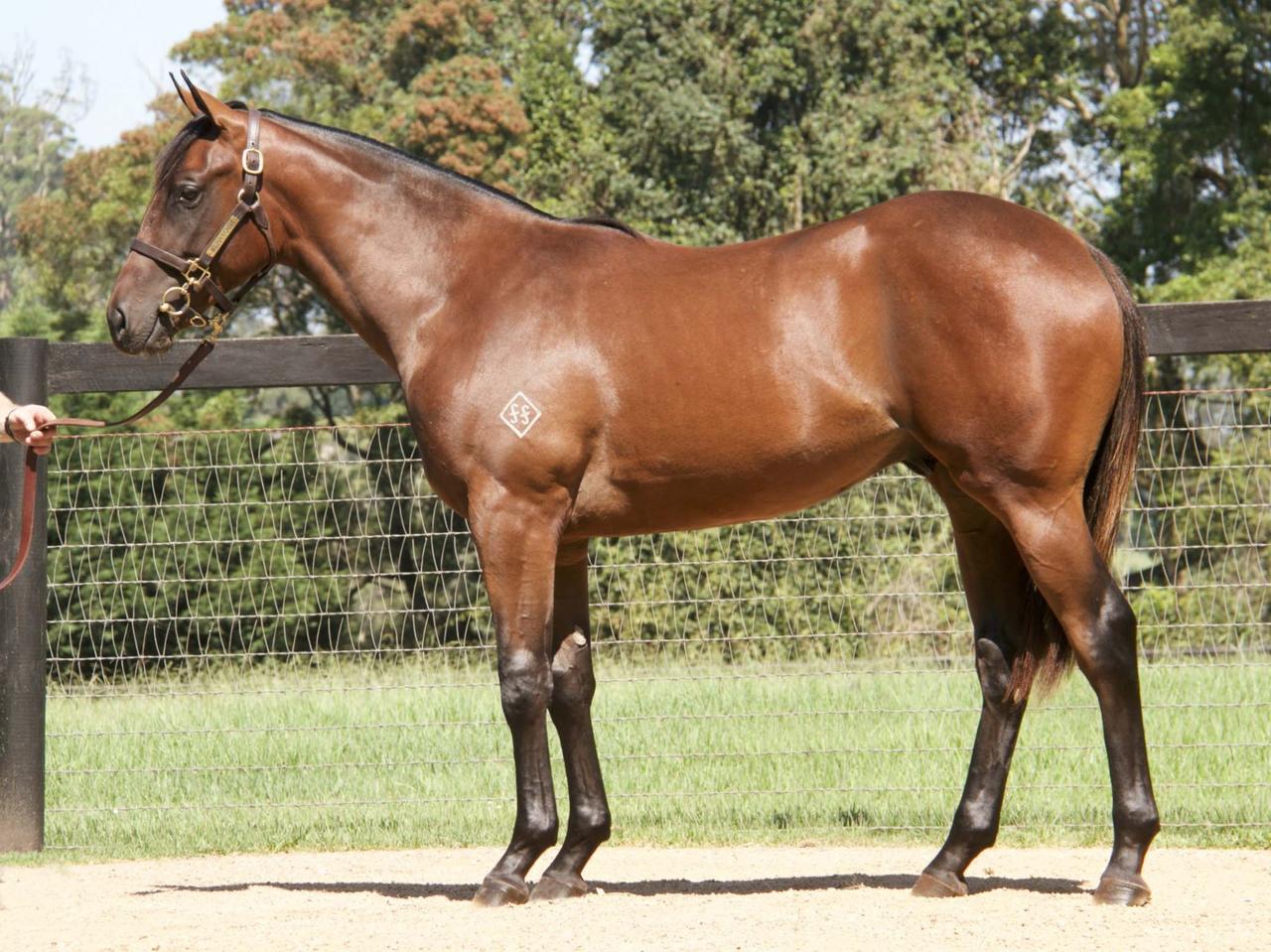 The dam of this colt is Roman Sandals, a daughter of quality sire Holy Roman Emperor. This young mare has already produced a full sister to our colt who is a 3-time metropolitan winner in the last 12 months. Roman Sandals is a half-sister to Stakes-placed Desert Fox and is from the family of Group 2 winner Millenium and Listed Blue Diamond preview winner Mohave.
The colt was purchased for  $80,000 at the recent Sydney Classic yearling sale. He has been broken in and is now spelling at Adrian Park. He will come back into pre training around May 20.
Ownership opportunities include purchase price and GST, all vet checks, transport from sale, breaking in expenses, Inglis Race Series and 12 months mortality insurance.
For further information feel free to call Shona Drechsler on 0408 427 414 or Mick Price on 03 9572 0333.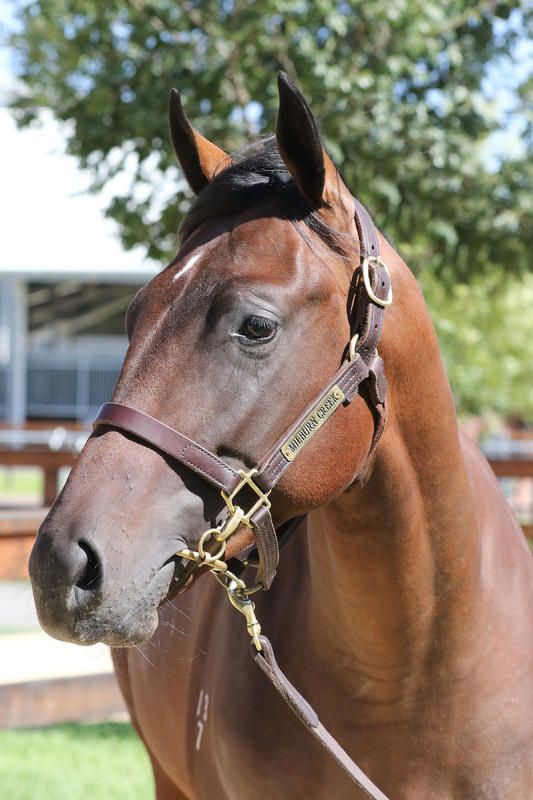 BAY COLT (AUS)

Foaled 24th September 2017

---

| | | | |
| --- | --- | --- | --- |
| Sire | Fastnet Rock | Danehill | Danzig |
| HINCHINBROOK (AUS) | | Piccadilly Circus | Royal Academy |
| 2007 | Snippets' Lass | Snippets | Lunchtime |
| | | Snow Finch | Storm Bird |
| Dam | Holy Roman Emperor | Danehill | Danzig |
| ROMAN SANDALS (AUS) | | L'On Vite | Secretariat |
| 2009 | Sandy Desert | Line in the Sand | Mr. Prospector |
| | | Desert Royal | Rexson |

---

HINCHINBROOK (AUS) (Bay 2007-Stud 2011). 2 wins at 2, AJC Skyline S., Gr.3. Leading Aust. First Season Sire 2014-15. Sire of 304 rnrs, 199 wnrs, 16 SW, inc. Press Statement (BRC JJ Atkins S., Gr.1), Seabrook, Beat the Clock, Whispering Brook, Derryn, Leonardo da Hinchi, Diamond Tathagata, Salsonic, Samara Dancer, Spright, Flippant, Flying Jess, Unite and Conquer, Improvise, Manaya, The Virginian, SP Problem Solver, etc.

1st dam

ROMAN SANDALS, by Holy Roman Emperor. Unplaced. Half-sister to Desert Fox. This is her fourth foal. Her third foal is a 2YO. Dam of two foals to race, inc:-

Hinchinstyle (f. by Hinchinbrook). 3 wins from 1300m to 2050m to 2018-19, BRC Starlight Family Raceday H.

2nd dam

SANDY DESERT, by Line in the Sand. Winner at 7f in U.S.A. Half-sister to ROYAL MED (dam of MILLENNIUM), Desert End. Dam of 7 named foals, 4 to race, 3 winners, inc:-

Desert Fox (Not a Single Doubt). 6 wins to 1200m, S$375,786, to 2018, Singapore TC Speed Baby Novice S., Graduation P., Top Spin S., Better Than Ever S., Open 2YO S., Class 4 H., 2d Singapore TC Juvenile Championship, L, Big Maverick S., Class 4 H.-twice, 3d Singapore 3YO Sprint, L, Singapore TC Premier Racing Partnership S., Newgate Farm S., Benchmark 83 H., Mexican Rose S., Progressive S., Class 4 H.

Yuma Desert. 4 wins to 1400m, A$261,910, ATC Hyland Race Colours H., Sydney Markets Foundation H., Schweppes H., Tab.com.au P., 2d ATC Cellarbrations P., Belmadar H., 3d ATC Can Assist Cancer Support H., Treeserve H., IGA Liquor H., Schweppes P.

Diamond Master. 4 wins at 1000m, 1200m, HK$4,067,150, to 2018-19, HKJC Parrot H., St George's Challenge Cup, Kate Tokyo H., Pak Tam Chung H., 2d HKJC Sha Wan H., Rotary Centenary Challenge Cup, HKU Foundation H., 3d HKJC Roselle H., Zhuhai H., KC Good Funds Services H., Harbour View H.

3rd dam

DESERT ROYAL, by Rexson. Placed in U.S.A. Half-sister to DESERT VIXEN (dam of REAL SHADAI), VALID APPEAL, CLASSIC TRIAL, COURT TRIAL. Dam of 10 foals, 9 to race, 6 winners, inc:-

ROYAL MED (Medieval Man). 8 wins-2 at 2-from 5½f to 8½f, Louisiana Downs Lorelei S., L, Evangeline Downs Coca-Cola Schweppes Mixers S., Tellike S., 2d Fair Grounds Tiffany Lass S., L, Davona Dale S., L, 3d Louisiana Downs Majorette H., L, 4th Fair Grounds Oaks, Gr.3, Fair Grounds Pontalba S., L. Dam of-

MILLENNIUM (Prized). 14 wins from 1200m to 2000m, NZ$457,850, ARC Great Northern Guineas, Gr.2, BOP RC Japan-New Zealand International Trophy, Gr.2, ARC Lindauer S., Gr.3, BOP RC Tauranga S., Gr.3-twice, ARC Great Northern Challenge S., L, Counties RC Metric Mile, L, Taranaki RC Mason Appliances 4YO H., L, ARC Winter H., BOP RC Timpack Industries Ltd 3YO H., Fahy's Motor Inn H., 2d WRC Captain Cook S., Gr.1, ARC Great Northern Challenge S., Gr.3, BOP RC Tauranga S., Gr.3, ARC Great Northern Challenge S., L, WRC Condren's Car Parks H., BOP RC Fahys Motor Inn H., Opunake Cup, WRC Blue Mountains Logging Co Ltd H., Avondale JC Mondiale Freight Services H., 3d ARC Easter H., Gr.1, Lindauer Grandeur S., Gr.3-twice, Waikato Guineas, Gr.3, Waikato RC Foxbridge P., L, Cambridge Breeders' S., L, Feilding JC Anzac H., L, ARC Victoria Racing Club Trophy, Matamata RC Reid & Harrison H., 4th ARC Zabeel Classic, Gr.1, Lindauer Grandeur S., Gr.3, Waikato RC Foxbridge P., L, Counties RC Metric Mile, L.

Kamsky (Generous). 4 wins from 1300m to 2000m, MRC Burberry H., Singapore TC Kranji C S., Class 4 H., 2d MRC Plato H., Singapore TC Canada Trophy, Class 4 H., 3d South Australian Derby, Gr.1, Singapore TC Kranji C S.-twice.

Desert End (End Sweep). 2 wins-1 at 2-at 4½f, 6f, 2d Hollywood Park Nursery S., L, 4th Hollywood Park Landaluce S., Gr.2, Bay Meadows Lassie S., L. Dam of-

Margham (Encosta de Lago). 4 wins-1 at 2-to 1300m, A$270,522, MRC Aare H., STC Hyland Race Colours H., Nepean Engineering H., Rinnai Australia 2YO H., 2d AJC McGrath Estate Agents H., STC Manildra Group H., Tacking Point Tavern 2YO H., MRC Ahern's at Highways H., 3d MRC Hyderabad Race Club S., Gr.3, AJC Shed Enterprises H., Lake Moore H., MRC Thomas Moule H. Dam of-

MOHAVE (Exceed and Excel). 3 wins-1 at 2-at 1000m, 1200m, A$300,625, MRC Blue Diamond Preview (c&g), L, BRC Queensland Day P., L, ATC AMWU National H., 2d ATC Breeders' P., L, Hunter Valley Horse Capital H., TAB Early Quaddie H., 3d ATC Egroup Security H., Ranvet H.